Los Aztecas
-
Rules
: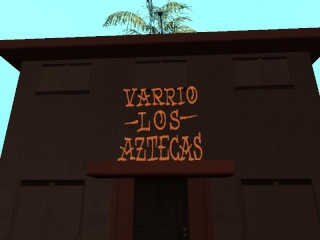 1. Respect your your hermanos (brothers) and your aliados (allies)! If you kill or attack your hermanos or aliados you may get kicked from LA!
2. Use your org skins and RP the best you can!
3. Follow all orders from a member that is higher ranked than you!
4. Never DM (attack/kill without reason)! If someone crushed your car or something like that, you may shot after them!
5. Help your hermanos and aliados if they need help.
6.
Never
tell any cops about our HQ, leader or the weed farms and other secrets!
7. Don't let cops into our HQ!
8. Don't do Driver Drive By! Only passenger drive by is allowed! And parking on another player is not allowed!
DESTROY
or return the vehicles after use! Other people can enter them, and we don't want our vehicles to get stolen!
9. Don't use the helicopter when you are wanted!
10. Don't be inactive more than 1 week!
11. You have to pass 7/10 tests to get accepted!
12.
Kill
people that get into our HQ. Only friends and amigos can enter!
If you break any rule, it may get you kicked!
And if you wan't to apply, you must show that you did read the rules! So paste this into your application: Respeto a los hermanos, el odio para el enemigo
(The rules can get changed by the leader anytime!)
Similar topics
---
Permissions in this forum:
You
cannot
reply to topics in this forum